Soviet Toys from 1924 Russian (soviet) propaganda cartoon ENG SUB
Soviet Cartoon (Soviet Toys) ENG SUB скачать видео -
СКАЧАТЬ
Похожие видео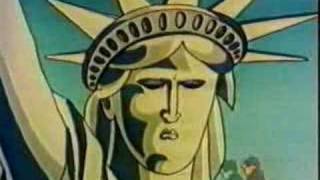 ( 11 г. назад )
Russian cartoon about russian cops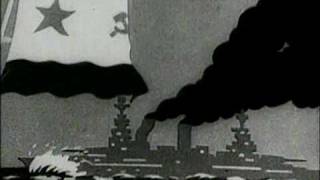 ( 8 г. назад )
Victorious Destination, 1939, directed Leonid Amalrik, Dmitry Babichenko, Viktor Pokolnikov, Soyuzmultfilm. A political cinema poster celebrating the achievements of the "Bolshevik Locomotive" -- Joseph Stalin's first three 5-Year Plans. The Film applauds the Party's destruction of millions of peasant farmers (kulaks) considered to have capitalist psychology, and trumpets achievements of mythical coal miner Alexei Stakhanov who exceeded all norms for productivity. Some of the original music, written specifically for the film to underscore the Stakhanov sequences, was not restorable. It was replaced with the popular song "Life Is Getting Better and Happier." The song was based on a line from a speech given by Stalin to extol the Stakhanov Movement. Help us caption & translate this video! http://amara.org/v/FZN3/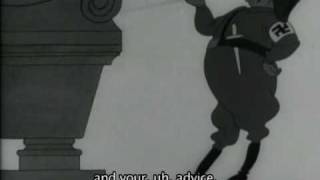 ( 9 г. назад )
Cinema Circus, 1942, directed by L. Amalrik and O. Khodataeva, Soyuzmultfilm. One of a handful of animated short political posters that survived World War II, this one ridicules Hitler and his cronies. The master of ceremonies is a caricature of the USSRs most famous clown, Karandash, whose name means pencil in Russian. Help us caption & translate this video! http://amara.org/v/FZNv/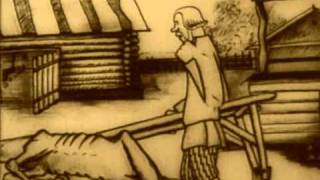 ( 7 г. назад )
An old Russian (soviet) cartoon about the Results of the XII Party Congress, circa 1925, with English subtitle.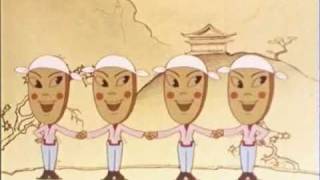 ( 8 г. назад )
I have translated this so you can have more fun watching it. I found this cartoon in public domain recently. Its clearly a propaganda cartoon against American financial system, but also shows racist animation. The story is the little Kopeck (russian cent) gets lost. Goes to the money museum. At 12am money comes to life. All the money that looks like it comes from 3rd world countries is peaceful and they all dance together. Later the attention moves to the basement, where American and other "Western" money hang out with alcohol and cigars. The announcer says "here is western GDR western germany guests" and you see soldiers dance. All the soldiers clearly look like NAZI infantrymen. Then they have a boxing contest the chamption is a brass colored ONE CENT, who is clearly made to look like an African American. He is rude and pompous and smokes cigars. Tiny kopeck cries. Then the soviet radio says "all citizens! bring your money for re-printing" the money goes in, and comes out heavier and more valuable. The cartoon has been cut to be under 10minutes according to youtube rules. But you will see all the propaganda parts.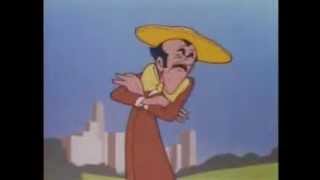 ( 12 г. назад )
An animated anti-communist film produced by the US in 1948. This is funny stuff and the quality of the animation considering it was produced by a college is absolutly awesome. Enjoy!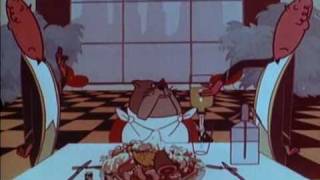 ( 9 г. назад )
1963, V Bordzilovsky and Y Prytkov, Soyuzmultfilm Eighty-nine years after the Bolshevik October Revolution (and 16 years after its collapse), Films by Jove is releasing a 4-DVD set called Animated Soviet Propaganda. The set is based on 4 dozen rarely seen shorts produced by Soviet government agency Soyuzdetmultfilm from 1924 to 1984. Films by Jove acquired the rights to these shorts in 1992 and has since then digitally restored approximately 50 hours of film. Since these animated movies were intended to win the hearts and minds of the Russian people, all of them have a strong anti-American, anti-German, anti-British, anti-Japanese, anti-Capitalist, anti-Imperialist, and pro-Communist slant. Many of them also feature anti-Semitic and other racist images. There is approximately two hours of documentary and six hours of animated films. Help us caption & translate this video! http://amara.org/v/FZNt/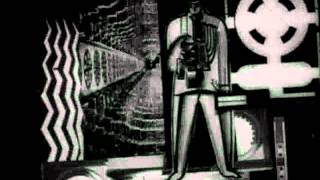 ( 5 г. назад )
Interplanetary Revolution 1924 Soviet Propaganda Shows Tesla Cigar-Shaped "UFOs" ...found this baby on www.projectfree.tv ~~~~~~~~~~~~~~~~~ http://www.1channel.ch/watch-240904-Interplanetary-Revolution ...their description: [snip] "Interplanetary Revolution: Here's an interesting curiosity of Soviet animation called Interplanetary Revolution. It was written and directed by Zenon Komisarenko, Youry Merkulov and Nikolai Khodataev in 1924, as a piece of propaganda showing how the Soviet revolution drives "blood sucking international capitalists to desperation." The film's subtitle is a prediction to an "event very likely to happen in 1929". Hm. The Wall Street Crash, anyone?" Released: August 18, 1924 Runtime: 8 mins Genres: Animation Short Countries: Soviet Union Director: Nikolai Khodataev [/snip] http://www.1channel.ch/watch-240904-Interplanetary-Revolution ~~~~~~~~~~~~~~~~~ not much info available from The Internet Movie Data-Base, but here's the link: http://www.imdb.com/title/tt0230521/?ref_=fn_al_tt_1 ~~~~~~~~~~~~~~~~~ Ironic how the cartoon sells us the promise of new technology that was already decades old by the 1920's thanks to Nikola Tesla, & yet that same "new" technology is still beyond the reach, if not the grasp, of "the proletariat" almost a hundred years later. Please, no one expect any mention that communism is a euphemism for monopoly capitalism; it IS propaganda after all.